Happy New Year to all our members, from Standish Quilters Committee.  We hope you had a relaxing Christmas and that you enjoyed receiving your little 'charm' in your card from us.  
Some of you have commented that you are going to use your charm on a quilt, onto one of your projects, or even as a stitch marker when knitting.    
Here are the members makes for January …………………………
Happy New Year! Many thanks for the Christmas card and the little button set. It was an unexpected surprise and such a lovely thought. I intend to turn mine into a progress keeper for my knitting so that it will be a constant reminder of the quilting group. Fingers crossed at some point later this year we will all be able to get together again. I have a few bag makes to share this month and below I have listed where I have found the instructions/tutorials. All these bags, except the purple one, have been made for the bag stall at the Group's next exhibition (whenever that may be!)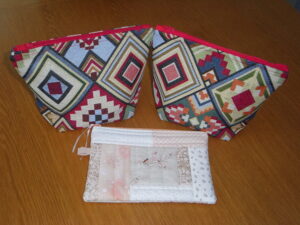 The zipped bags have been made following the Project bag Tutorial on Betsymakesblogspot. A really easy, quick make. I altered the size to use up some leftover fabric.
The tutorial for the Christmas gift bag is a Sew Very Easy You Tube video. I had been gifted some Christmas fabric to use for 'Charity makes' so thought I would try out this pattern. A very simple bag to sew. 
The green, pleated drawstring is from this blog's 'Something to make in October'.
This Christmas drawstring bag can also be used as a gift bag. It's a Debbie Shore pattern that I've sewn many times to store crochet and knitting projects. It's so useful and very easy to alter to whatever size needed.
Hope you are keeping well and I look forward to reading January's blog.
Take care
Janet C
Here is the finished top of my LIGHT AT THE END OF THE TUNNEL quilt I showed the start a few months ago.
I am no longer able to layer and quilt myself. I have contacted Emma at Quilters Quarters , good news for her she is pregnant sad news for me she is not presently undertaking this kind of work.
Does anyone have details of the lady in Leyland someone told us about last year?
Best wishes to all for 2021 in anticipation for a meeting which I think should start with a party? Even if it gets to summer.
Liz C
Here is a quilt top, which I have made for Linus.  It measures 48″ by 26″.
Sue G
One of my daughter-in-laws is from Lithuania and as they celebrate two 'Independence' days in the first quarter of the year, I thought I would make a table runner she could display, to help her feel at home whilst so far away.
In December, I phoned Emma at Quilters Quarter with a photograph of the Lithuanian flag, and asked her if she could email some photographs of suggested plain fabrics with a contrast fabric.  The same day, I received several photo's from her by email.   From the bolts of fabric shown, I was able to  place my order and it arrived the next day, enabling me to still sew during lock-down.
I used my embroidery software called 'Digitzer' to bring in a scan of the outline of the country I had made, and then marked out the shape one stitch at a time, before converting the outline to 'satin stitch.'  
I also marked out the capital city together with her home town of Vilnius.
To complete the top grey part of the quilting, I free motion quilted with vermicelli.  I had to play around with the tension so that it looked right underneath, but did this on a sample first.  I was very pleased with the overall result, and can't wait for her to see it.
With the left over fabric, I made a drawstring bag and and I also hand sewed a label on the back of the table runner, which says, 'Made for Virginia , love mum 2021,' in Lithuanian.
Carolynne P