This was all made using machine embroidery and lace.   The pieces have to be joined together and the quilt is backed, so it is a sort of quilting   
I am pleased with it, as it has taken many hours to do, as you can't walk away and leave the machine running.  That's a recipe for disaster!  
Here are some close ups.
During November I made another Advent wall hanging…………
I wanted to show the two close ups, so that you could see how the pockets where made. 
I hope everyone has a peaceful Christmas and hope to see everyone as soon as possible. 
Take Care Pat M.
I had a lovely trip to Quilters Quarter and whilst there bought a Christmas panel.  There was one on display made by Emma G.  It was only when I got home, I realised that it would be lovely to have all the matching fabrics that Emma had used too.  An email to Emma, and a day later, the fabric arrived (with lots of other things of course, as a girl can't have too much stash!).
The panels are for my old neighbour in Liverpool and one for her daughter.  As you can see, I am getting more practise in with my quilting lines.
Maureen K
Christmas trees have been the theme this year – by pure chance!  I had all the Christmas fabric in stock and some of the background fabric. It has been very convenient that Sticky Fingers has been open for doing click and collect. I have bought quite a bit of Moda grunge for other projects from The Sewing Studios, Redrith. Excellent range and excellent service.
The above wall hanging is made from foundation pieced trees.
Small foundation pieced trees
This huge hanging is about 7 foot tall! 
The pattern was dressmaking pattern tissue and it is foundation pieced. I looked it up in Amazon UK and it was over £30. I looked it up in Amazon USA and it was $14 delivered. You can guess where I ordered it from!
I really liked this one. 
It is stich and flip. Did it with a white background first and it looks great, but this one with the goldie coloured Christmas fabrics is really stunning.
This one is felt appliqué. 
The kit was from Quilters Quarter a number of years ago – it is amazing what projects have come out of every space in the sewing room. Emma D design.
Joan T
Hope all is well with everyone.  I've done a few Christmas things.  The panel above, I picked up in Canada.
A table runner, also from Canada.
And a little square made from scraps.
Looking forward to seeing what everyone else has been doing.
Love Sue G.
In this month's "Today's Quilter" (no. 68) I saw an item called "Folded Fabrics" which was a little Christmas bell and thought I would have a go at making it.
It was very easy to sew (the template was included). There was a small amount of machine sewing and the rest of the construction was a series of simple origami folds and hand sewing (which I love) to assemble the bell. I added ribbon and embellishments and hung it on a Christmas tree.
It didn't take long to do and I really enjoyed making it.
Elizabeth H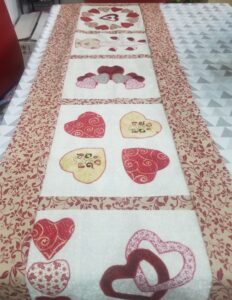 Hello All
I am halfway to making the above table runner for a friend.  Its applique work and I am going to quilt it by hand.
Maureen M
I attended a live zoom workshop arranged with 'Beyond Knitting & Stitching Workshops' with Pat Archibald as the tutor on Friday 4th December, where we made a poinsettia applique, also using gold foil and beading. 
As the workshop was between 5pm and 6.30pm I had to work quickly to keep up, so I think I will make this again, where I can give it more attention.  But for a first attempt it gives a pleasing result, I just had to add the beading around the edge later on.
We had advance notice of the requirements, so that we could have everything ready 
I certainly think that whilst we can't get to meetings, doing a workshop this way gave a bit of normality, and being able to ask questions if you were stuck, really helped.  A recording of the meeting is emailed out to you afterwards, so that for a time, it is available for you to re-visit and complete your project. 
I have made a wreath from scraps of Christmas fabric, adding beads, sequins and small bells, with small green or red leaves in between.  
Since we made candle wreaths at Standish Quilters, I have made several of these for family.  This latest one is shown sitting on my sons table in Holland where they decided to put a poinsettia inside it, and the furthest I have sent one is to my sons father-in-law in Lithuania.  I think they are a great additional to any table at Christmas time.
Carolynne P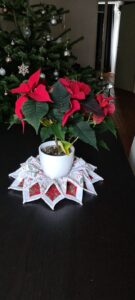 On behalf of the committee, may we wish everyone at Standish Quilters a peaceful Christmas, and thanking everyone for their support by contributing to this site, as you have helped to inspire us and you have also helped to make it an interesting read during the Winter months, for all of our members.