Hello Everyone, 
I've made one bag for the tombola, more will follow. The bag is a pattern from Muriel. I enjoyed making it and it looks quite good, but the sides and a bit wonky.
I found this Mickey Mouse block on Pinterest and loved it.  It was very easy to make, its pieced and I think I might make another one.  Needless to say it's for Linus, at the moment I make about one or two a month.
This morning I was working on a quilt I made about four years ago, but never got the quilting finished, watch this space.
Keep well
Linda G x
I enjoyed doing these from the October's 'something to make section' and looking forward to Novembers Blog.
Liz C.
I have made these two bags  from the instructions given in the September's 'something to make section.'  The contrast panels are made from remnants kindly donated by my daughter from the remains of material used for face masks.
Hilda R.
Here are some projects I have just finished.  They were all on my embroidery machine – I am trying to get through all my PhDs…lol.
Pat M.
It's common knowledge to many, that I love stripes and border fabric. Here is a border fabric designed by Jinny Beyer the well known quilter and author, which I bought  a metre of a few years ago, simply because I liked it —- not something I usually do !
You can buy Jinny Beyer's patterns which use border fabric but you need to buy her fabric as well unless you make the pattern up as you go along like I do but that's not everyone's cup of tea, I know. I recently found out that she has some videos on YouTube if you are interested.
After studying the fabric and doing some measuring and cutting, two different blocks were generated.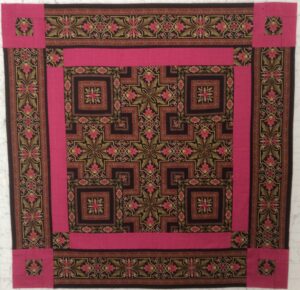 I soon realised that I needed to introduce another fabric so I decided to use a bright pink which I luckily had in my stash. The centre of the quilt is just made from a few of the two different blocks. The exciting part is seeing just what design can be made when they are all put together. I used the pink for one border and the stripe for the other with corner blocks. The finished top measures 36" x 36".
I had one block and a few scraps left over but I had some pink fabric so I decided to try to make a cushion. Many of you know that I hate waste. It was a challenge but I managed it —- now I just have to decide how to quilt the pieces. Decisions, decisions !!
Chris B.
I have finished this sampler quilt, it's taken me 12 months and isn't up to competition standard, but I love it and I learned a lot of different techniques and blocks.
Whilst making my sampler quilt, I have been getting on with smaller projects, and decided to make a cushion for a relative.  
In the first image,  I used a template to mark all the squares across and down with chalk, and after cutting the squares out, I had to keep the pieces in order as I was going to turn each one round to create the pattern.
I then stitched the turned pieces together, as shown in the second image.
When completed, the cushion top is a very satisfying result, its called a Square Dance Cushion! 
Maureen K.
One of my daughter-in-laws is an American, and as she celebrates Thanksgiving in November, I thought it would be lovely to make her something to remind her of home.
I had seen a design for a small 16 inch wall hanging and thought, I could make this myself and would just need to find a way of adding 50 'stars' for the American flag, using my embroidery machine.
So I got my pattern drafting paper out and drew the basic design I was looking for in full scale (54 inches by 18 inches), then copied each piece adding a quarter of an inch seam allowance all the way round each piece onto freezer paper (Remembering that the waxy side would be the side facing upwards when attached to the fabric).
I ironed the freezer paper onto the fabric and cut each of the 19 pieces out. I left the freezer paper attached to stablize the fabric whilst I sewed the pieces together using a quarter inch seam allowance.
I used 2 different red fabrics and 2 different ivory fabrics and stitched a line down each side of the ivory fabric when it was sandwiched with the wadding and backing fabric.
The triangle of stars was embroidered using a stabilizer fabric.
I was so happy with the result and she was very pleased when her surprise arrived and it was put on their dining table straight away!
Carolynne P.