Browsing You Tube, I came across a tutorial 'Sew Very Easy' for a Sewing Arm Chair Caddy and thought it would be very handy to keep sewing equipment organised and in reach when watching TV. Also, to prevent scissor, pins etc falling off the chair arm onto the floor or slipping down the side of the chair!
One side has a large pocket to hold paper/instructions whilst the opposite side has 5 smaller pockets for scissors, rulers and other tools. The cushion in the middle is stuffed at each end with wadding and has walnut shells in between to add weight and used to hold pins and needles.
The instructions were very easy to follow and I have already sewn a second one as a gift.
Best wishes 
Janet C
At the beginning of lockdown, I decided to use up some of my scraps.

I made three of these cushions with the heart centre. Each one was made using 196 one inch squares. As you may have noticed there are some half square triangles included as well. Piecing small squares is not everyone's favourite thing to do, I know, but it can  be done using a foundation paper if your interested. However, that isn't my preferred method as I'm not a fan of doing foundation piecing which I'm sure you know.


This cushion is also made using 196 one inch squares except this time every square is cut from a different fabric and it's known as a postage stamp cushion.
I chose to use brightly coloured buttons and buttonholes for the fastening on the back.
Chris B
I have been wanting to make a Folding Star for a long time and thought it would be too difficult to handle.  I found a pattern and had a go.  I used 3″ squares and started to fold them as instructed and  before I knew it, I had one completed.  I learned that these were first used by Amish people who used them as quilted hot pads/pot holders, but I wanted to make one for my daughter to hang up, and I am really pleased with the result.
I have also been making 'Gin Coasters' for home and for family Christmas presents. 
The ones shown here are 4 inches square when completed.  They have also given me an opportunity to practice my quilting techniques.
Maureen K
Scrappy Maple Leaf Quilt:
I started this a couple of years ago for my daughter and her husband, and at last I have finished the top. Just got to layer it now, and then hand quilt, which I am looking forward to doing during the winter evenings.
It is a very colourful quilt, my daughter's choice of pattern and fabrics.
Elizabeth H
I have a friend who's husband has Alzheimer's and as they both used to enjoy sailing, I decided to buy some nautical fabric and make a fidget blanket that had lots of things to do with sailing on it.
There are couple of embroidered badges with their names and the names of the boats they used to sail, but I have covered them up for privacy reasons.
The blanket rolls up and is held closed with a button and some elastic that stretches to it.  I also made a 'drawstring bag' with his name on, to put it in (what a surprise you might say with this months suggested make!).
I started by using 5″ charm squares and arranging them, deciding what to include, as I had heard lots of things to fidget with are needed.  One of the thoughts I had was to include three types of knot set permanently with 3 pieces of rope below for him to practice the knots with.  A button with button hole (as he was now having difficulty opening and closing buttons), a lace to tie, a zip, a velcro strap, a rucksack type clip, some snap shackles, a crinkly bag and lots of things to run through his fingers.
When they were all sewn together, I added some bias binding across the seams as some where bulky due to what they were holding in.  I then used mercerised cotton yarn to hand-sew running stitches across the binding in red, blue and green to match.   This ensured everything was securely battened down! 
And just to let Carole know, this is the size of a small lap quilt : – )
Carolynne P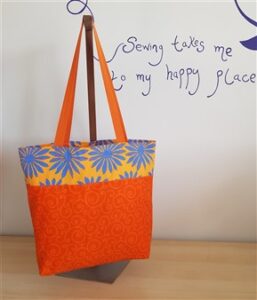 Here are some of the shopping bags that were made in September.   Thank you to those who took part.
In the line up, after the orange bag, these were made by Maureen K, Chris B and Carolynne P. 
Chris said of her bag 'This is my bag made from the pattern included on last month's blog.  It can be used for the exhibiton.  An easy to follow pattern and I will make another one.'